How OneStream Software offers the most customer-focused cloud offering in the industry.
"You've gotta start with the customer experience and work backward to the technology. You can't start with the technology and figure out where you are going to sell it." – Steve Jobs, 1997
After years of being a happy OneStream customer and gaining insider insight into the SaaS software industry, I want to set the record straight on cloud offerings in the Corporate Performance Management market. In this article, I will attempt to give a detailed review of a client experience utilizing OneStream's Azure cloud solution and compare/contrast this with the current "True SaaS" solutions.
Business Leaders evaluating cloud software have important questions to ask. The first should be to ask how the product produces the best outcome for your business and what are the key criteria that should be used to measure performance and reliability in cloud offerings. Below are a few categories that evaluators should consider: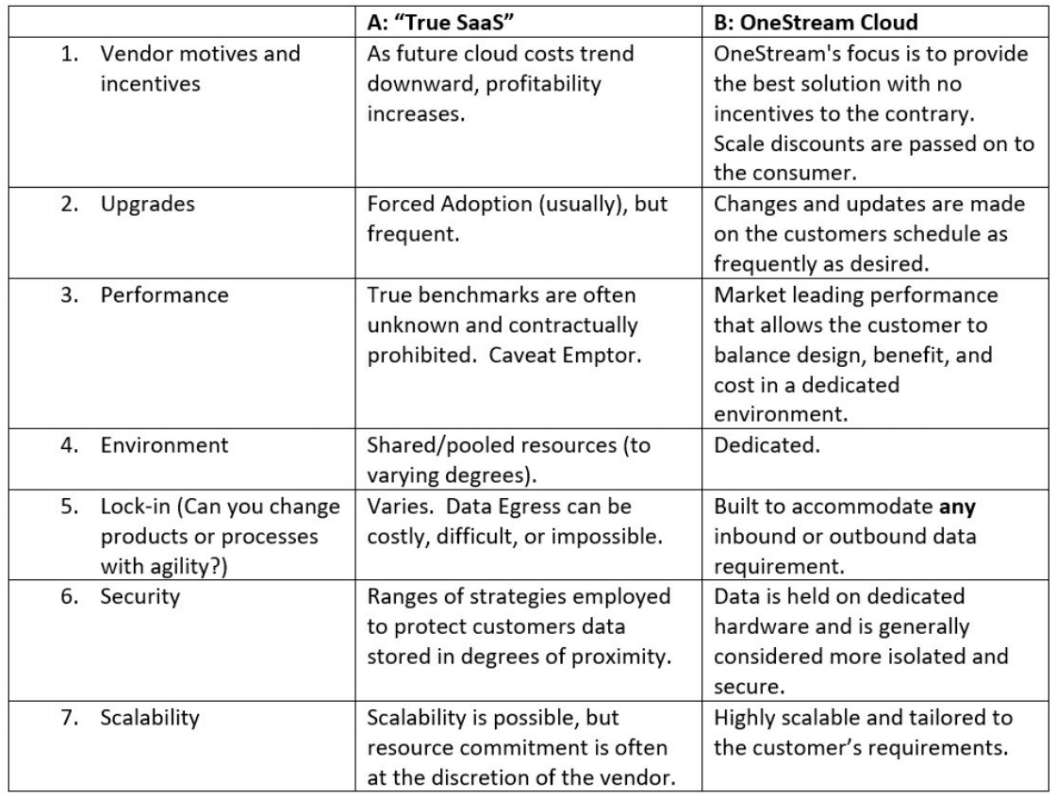 Other Considerations
Incentives: One of the "secrets" of cloud software is that there are incentives at play when selling the solution. One is that the vendor often believes the costs of the cloud to support the product are trending downward for either option. Investor expectations often include an assumption that the "True SaaS" products have steady or increasing license costs with a declining cost of sales. With OneStream, the customer reaps the full benefit of cloud cost reductions or performance improvements during this process. Carefully consider which benefits your company more.
Change Control: It is true that changes to the "True Saas" solutions updates have historically been more frequent. While this sounds like a benefit, consider this carefully. This is an exciting feature for software with a limited scope. For software meeting complex and diverse use cases it can be dangerous. Customers in these areas often have situations that were difficult to foresee in the vendor's testing. Vendor quality control is essential in both categories, and deployment timing
flexibility may be an essential business requirement. Many wish to retain control of updates during yearend, acquisitions, restructuring, and legal hold situations. A vendor may claim zero defects, but past production rollouts that impacted the entire customer base adversely may tell a different story. Understand your testing requirements and windows.
Performance: It is critical to discover if your prospective solution meets your speed and consistency expectations. This can be very difficult to ascertain because "True SaaS" solutions can have terms and conditions that prohibit conducting benchmarking or disclosing any results. Make sure to understand if your solution performance slows during other customers' peak activity. I have seen examples where a frustrated customer called support to hear than they needed to wait until other jobs have finished, and even one requesting that a customer reschedule high overhead jobs to a more opportune time. Diligently review the limitations of acceptable use, interview peers that are live, and incorporate dispute resolution in your contract.
Lock-in: Lock-in can be a challenge for any software. It can be an easy subject to miss during evaluation and can be a big challenge in the future. Evaluate how
difficult it is to extract 100% of your data, attachments, etc. Products vary significantly on this, and some could be described as "designed for lock-in". If your product is sold to another vendor or supported with a different cloud what impacts does it have to your business? There are sometimes preferences of businesses to avoid one provider over another.
Security: Security can be very good with either option, though OneStream's cloud offering approach is widely accepted to be the most secure. OneStream has been certified at leading levels (FedRAMP) that I have not seen other vendors match. Independently verify your expectations and your vendor's offering when it is relevant to you.
Scalability: Scalability can be excellent with either option. In instances where it is at the discretion of the vendor, consider the vendor's reputation, and ensure that
expectations are clear. In use cases where the load is evenly spread over time "true SaaS" solutions can be very cost-efficient and yield high performance. In
performance management and ERPs, there is often concurrent demand (nearly everyone closes monthly in the first days or weeks) that makes it difficult to reap
the full benefit. With OneStream, the cloud resources are determined by the customers' use case and is dedicated.
Summary
As always, consider it essential to talk with multiple customers that have similar complexity and are live on any prospective solution. Ask your vendor for a 100% list of customers who have purchased the product (live or not) and talk with as many as you can.
OneStream's cloud offering is the most customer-focused approach in the marketplace. While other vendors may disparage the approach, it is the one that
provides the power, reliability, and consistency needed for large enterprises. Full SaaS solutions have incentives present that can be a detriment to the customer. With OneStream customers retain control of their data, performance, and options in the future. Many will find this favorable compared to other researched alternative companies limiting expenses.